At the Heart, Of It All!
The furry friends who make Heart Arrow a family.
              ABBY AND TINK
Here are two heartbreakers, these two Newfoundlands were brought to Heart Arrow at just 8 weeks old. Unfortunately, they were diagnosed with Parvo right after they arrived in Spokane. After a long week of around the clock care, these two fluffy bears came through. Now over a year later they have become an amazing duo! If you ever see them around the clinic, don't be afraid to love on them. They may be large in size, but they still believe they are lapdogs.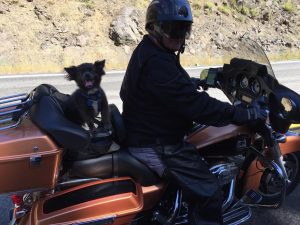 Eddie
Talk about a pup who likes to live on the edge! Eddie is a Chihuahua that loves to ride on his dad's motorcycle. These two are two peas in a pod. Not only is Eddie an adventure pup, he is a rare color for a long haired Chihuahua; he is grey with beautiful gold eyes. You can usually find him riding shot gun in his dad's truck or riding on his seat on his dad's motorcycle.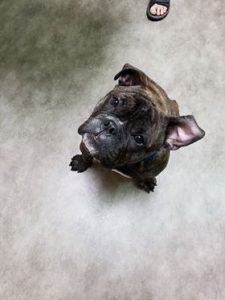 Deedle
Now talk about a character, Deedle will steal your heart from the moment you meet him. He loves to shake for cookies, and obviously has the head tilt down to a tee. He is an English Bulldog, with a beautiful brindle coat. Deedle loves to sneak into the back treatment area and beg for cookies.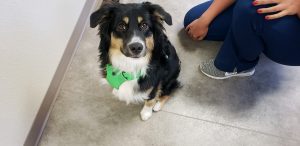 Jersey
Here is a dog of many talents! Jersey can ride on a paddle board, shake hands, roll over and  give high fives. This little man is a Mini Australian Shepherd that loves to come to the clinic and steal treats, as well as our hearts.
 
Lola
Little Lola (well little for now,) has quite the wild personality. She first came to Heart Arrow because she had decided to attack her father's fishing pole, which resulted in a fish hook getting stuck in her lip. She recovered quickly and was back to her spunky self in no time! She also learned quickly, fish hooks aren't her friends.
Naula
This is a kitty that likes to ride in style. Naula belongs to one of our assistants, and she has quite the personality. Since Naula is a Russian Blue, she is hypoallergenic! She's always been a fan favorite and is featured on our Facebook quite often, since she is incredibly photogenic.