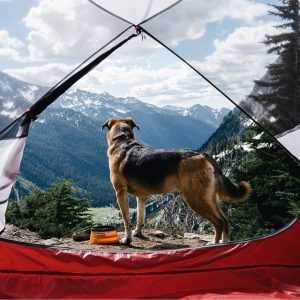 The lovely warm weather brings out the nature lover in many of us, including our pets! If you're taking your pet along for some outdoor adventures, such as an overnight camp trip, you'll want to read our expert tips from the folks at the ASPCA Animal Poison Control Center.
1.   Bring a pet first aid kit. It is always better to be prepared and often remote campsites will not have quick access to veterinary care.
2.   Be sure to locate the closest animal emergency clinic and add its contact information to your phone.
3.   Pet proof! Before you let your pet out on your campsite, thoroughly inspect the area to make sure other campers haven't left anything behind.
4.   Don't let your pet roam. Because your pet is not familiar with the area, he could get lost, fall into a river, or become stuck. Other well-meaning campers may feed him something toxic or may have rat poison out in their campsite. He also may have a run in with some not-so-well meaning wildlife. (Your pet first aid kit will have everything you'll need to make a de-skunking bath that really works).
5.   Make sure that your pet has proper ID on her collar at all times and a reflective collar if she will be out on the campsite at night.
For more helpful hints, check out our Guide to Outdoor Safety.
Make sure to have a flea and tick preventative for your best friend as well, such as frontline or bravecto which you can purchase here at Heart Arrow. Buy one box of frontline and get 1 dose for free, or you can purchase a box of bravecto which is one chewable tablet and lasts for 3 months! Give us a call today to find out which would be best for your furry friend!
~At Heart Arrow We Love Pets~
Thanks to ASPCA for portions of this article