"Helping You Protect Your Pet"
February is National Pet Dental Month
Save 10% off of all dental cleanings
and polishings in February.
  Call 509-924-4558 to make your appointment.     
Dogs
Puppies develop 28 temporary teeth at two to three weeks of age. Their 42 permanent teeth start emerging at 4 months.
Studies show, that by age three, 80% off dogs exhibit signs of gum disease.
Small dogs are more likely to develop periodontal disease at a younger age than large dogs. Canine dentistry experts believe this is because the teeth of small dogs often are too large for their mouths, forcing the teeth closer together.
Cats
Kittens have about 26 temporary teeth at two to three weeks of age. Their 30 permanent teeth erupt at about 3 to four months. 
According to studies, about 70 percent of cats have signs of gum disease by age 3.
Tooth lesions similar to cavities in humans are the most common tooth disease in domestic cats. Studies show that about 28 percent of domestic cats develop at least one of these painful lesions during their lifetime.
After walking outside, wipe your paws to clean off the de-icer and clumps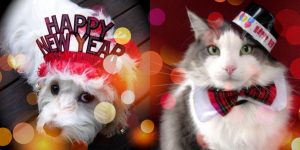 Valentines Day means lots of candy, especially chocolate. Be selfish and don't share with your dogs.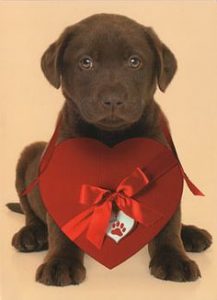 Remember to never iron a four leaf clover. You don't want to press your luck.